Navigate This Section
Our Clinics
BDMS Wellness Clinic Retreat at Anantara Riverside

Bangkok Resort
BDMS Wellness Clinic Retreat at Anantara Riverside Bangkok Resortis a part of the award-winning Bangkok Dusit Medical Services (BDMS) network – Thailand's largest operator of private hospitals with 50 facilities in Thailand and Cambodia, and the first outpost of the BDMS Wellness Clinic, Asia's premier healthcare facility.
We hold a strong belief that prevention is better than cure, and we are committed to helping our guests reach their health goals, adopt a healthier lifestyle, and achieve their optimal wellbeing. We offer comprehensive wellness screenings utilising advanced science and technology that allows our physicians to accurately predict future health issues and prevent disease while enhancing mental and physical performance and – most importantly – quality of life.
We also offer a range of aesthetic services in facial and body treatments using the latest technologies under the close supervision of our specialised dermatologists.
Preventive Care – Our Checkup Packages
The journey to restoring and optimizing personal health begins with a consultation with one of our experts in Preventive Medicine. During your visit with our physicians, they will ask about your medical history and any risk factors that may run in your family, your diet, exercise habits, and any other health concerns that you would like to address, such as improving physical appearance, athletic performance, blood pressure, lipid profile, brain health, or weight loss.
Following the consultation, you and your doctor will determine a screening program that meets your needs and expectations for optimizing your health. This may include comprehensive blood tests, indicators of micronutrient and antioxidant absorption, hormone imbalance, food intolerance, and even genetic testing to reveal potential health risks in your DNA.
Your lab results will be benchmarked against established suitable age norms. This includes benchmarking hormone levels across nationalities and different age groups to determine if an intervention or supplement may be advised.
Once your data has been analysed and risk factors have been identified, our team will help you fully understand your health risks and work with you to tailor a wellness program designed for your individual requirements to prevent disease and promote longevity.
Comprehensive health screenings and evaluations focused on the early detection and prevention of disease.
Teleconsultations
For the convenience of our guests visiting the clinic while on a business trip or holiday, a physician specialising in Regenerative Medicine can conduct a teleconsultation.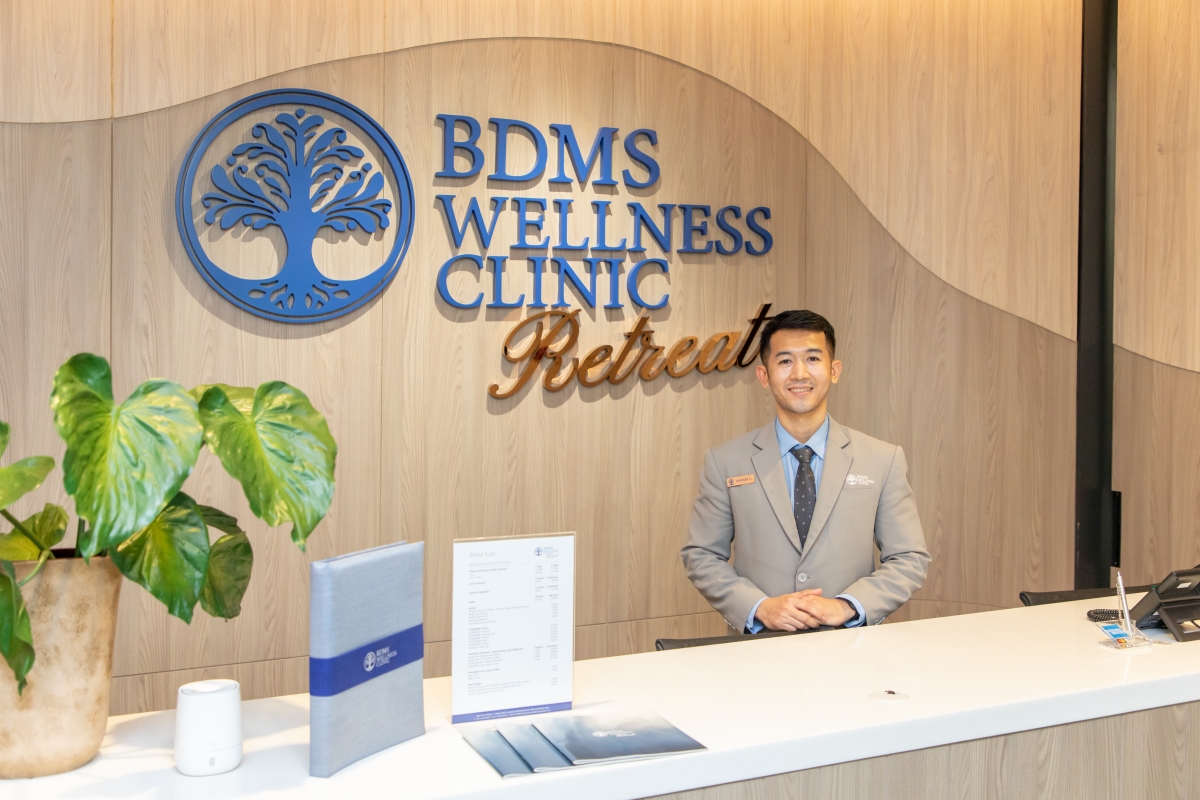 ---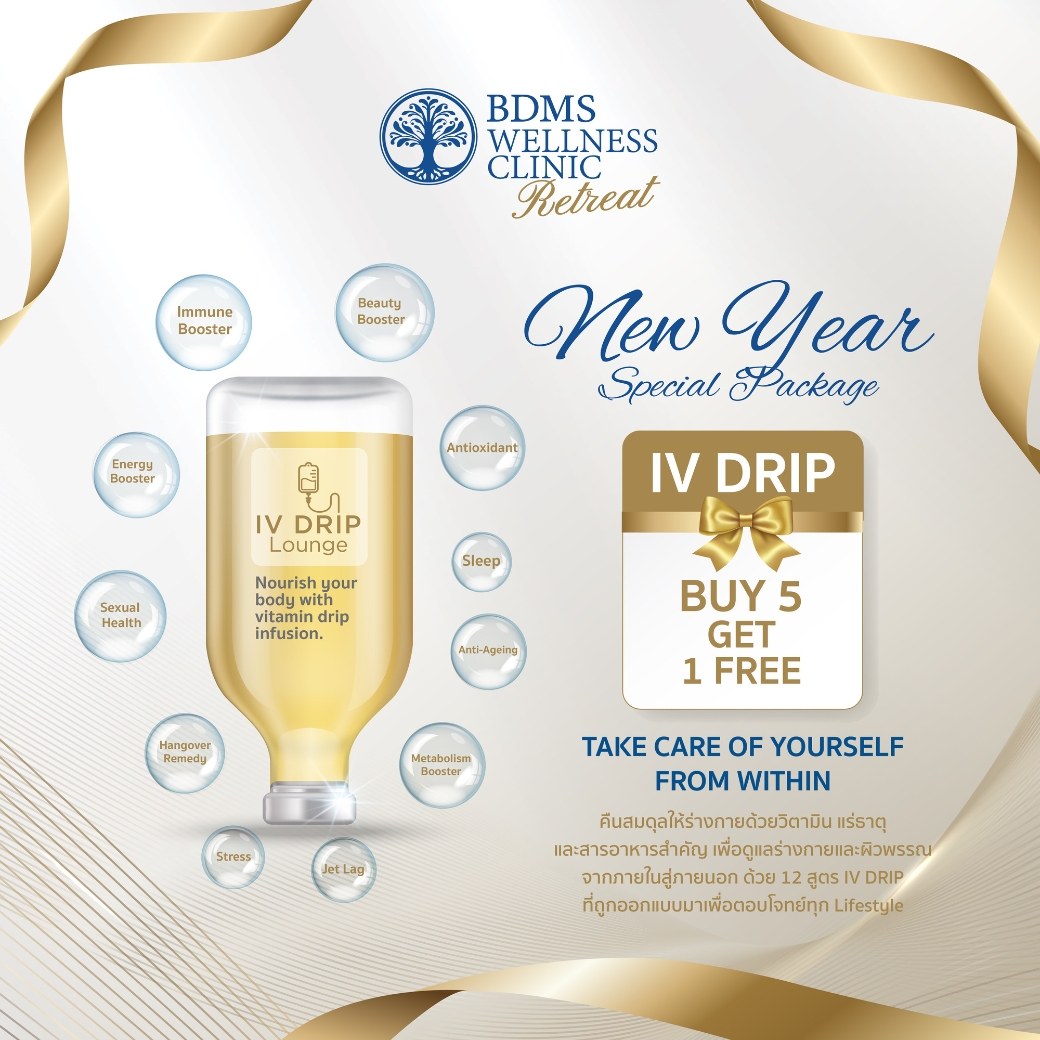 Buy 5 IV Drip sessions, and get 1 session for free
BDMS Wellness Clinic Retreat at Anantara Riverside Bangkok Resort
Replenish vitamins to rejuvenate your body from within after...
0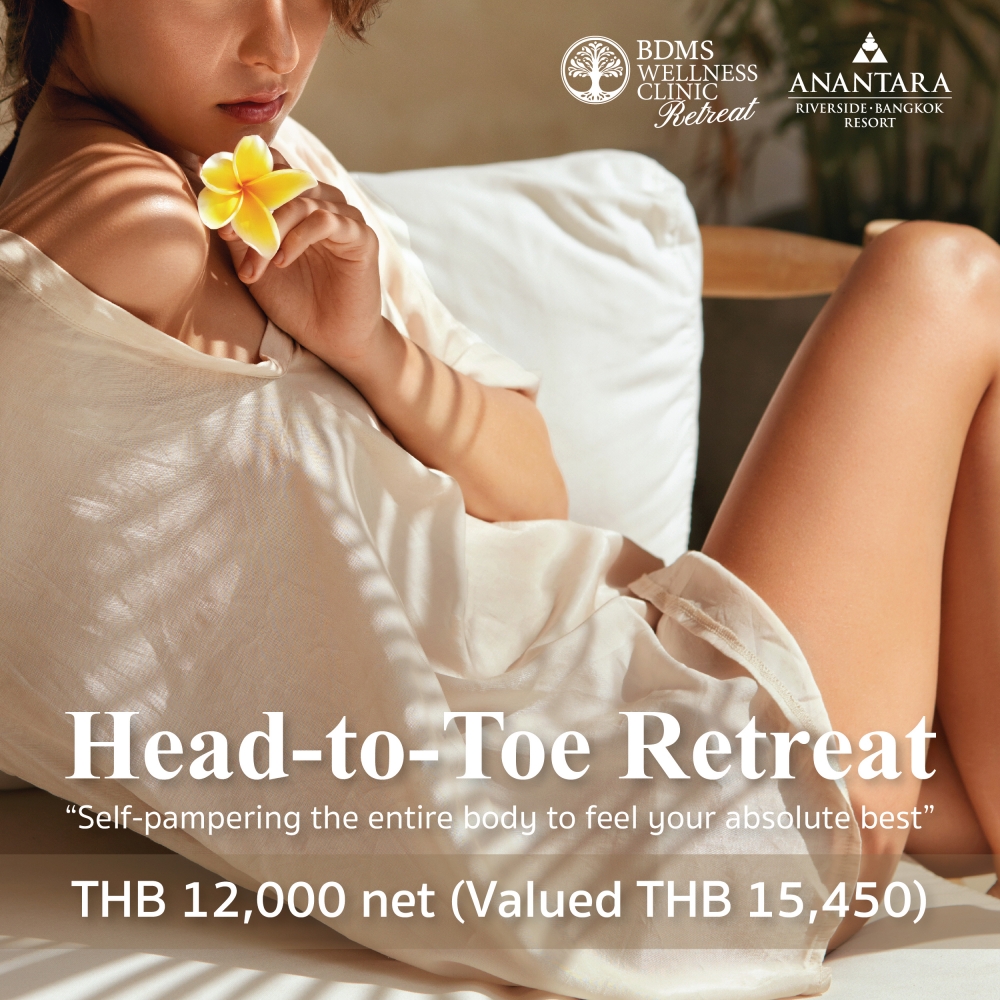 Head-to-Toe Retreat
BDMS Wellness Clinic Retreat at Anantara Riverside Bangkok Resort
Treat your entire body to a comprehensive pampering experien...
12,000
Contact Us
BDMS Wellness Clinic Retreat at Anantara Riverside Bangkok Resort
BDMS Wellness Clinic Retreat at Anantara Riverside Bangkok Resort
02-109-9842
BWTAnantarariverside@bdmswellness.com