Annual Health Check-up
Prevention and Wellness Clinic
Tailor-Made Prevention for Healthy Life and Delaying Aging
Annual Health Check-up is a comprehensive health evaluation. This Tailor-Made Program examines the levels of antioxidants in your body to verify that it's sufficient enough to protect your deterioration and the effects of free radicals. Through analysis of minerals and antioxidants in the body are used to design the optimum customized supplement that suit your personal needs.
Consultation services are based on personal history and blood tests to determine the ideal nutrition, lifestyle and exercise requirements to slowing down the aging process effectively.
Standard devices:
X-Ray
Ultrasound
Ultrasound Carotid
Digital Mamogram
Bone Densit (DEXA Scan)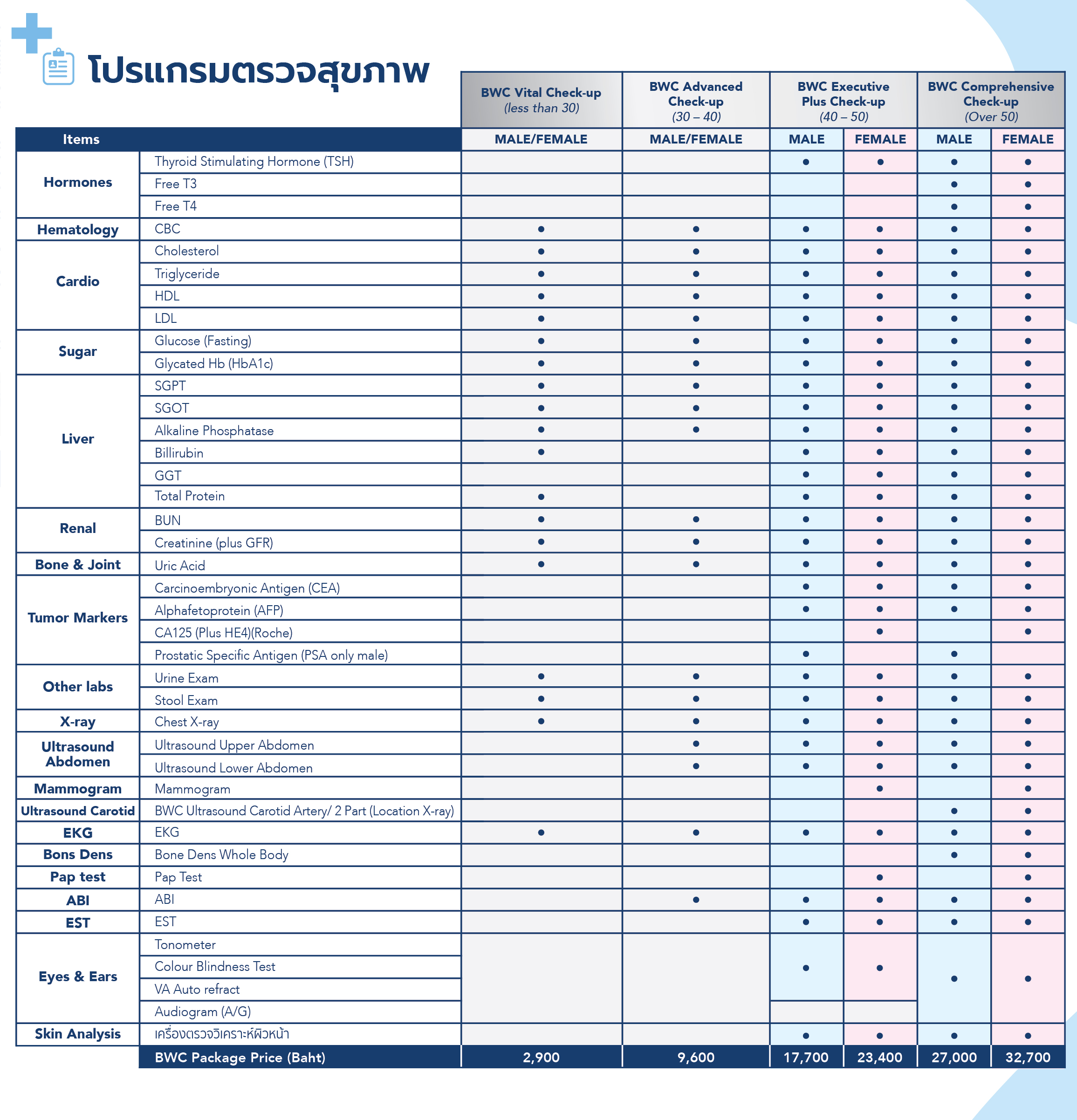 Conditions
Please abstain from all food and drink for at least 8 hours prior to your check-up.
Please show up at least 30 minutes prior to your appointment. (Opening hours Monday – Friday 08.00 – 17.00 hrs.
and Saturday 08.00 – 12.00 hrs.)
If you have a pre-existing medical condical condition, please bring along the test results for the doctor to review.
For female patients, please schedule your appointment at least 5 days before or after your menstruation period.
The check-up procedure takes approximately 3 - 5 hours.
Please bring your sportswear for fitness test.
สอบถามข้อมูลเพิ่มเติม หรือทำการนัดหมาย

โทร: 028269999
Line: @bdmswellnessclinic หรือ https://lin.ee/Z4So1yQ