About Us
BDMS Wellness Clinic and Minor Hotels Invite World-renowned Doctors to Share Secrets on Healthy Living at Health and Wellness Summit 2022
BDMS Wellness Clinic ผนึกกำลัง Minor Hotels เชิญแพทย์ระดับโลกร่วมแบ่งปันเคล็ดลับสุขภาพดีอย่างยั่งยืนในงานประชุม Health & Wellness Summit 2022
BDMS Wellness Clinic joins hands with Minor Hotels to expand customer base and drive economy in the health and leisure tourism sector with the launch of a preventive health center at Anantara Riverside Bangkok Resort by the Chao Phraya River. To mark this partnership the Health & Wellness Summit 2022 joins by leading world experts on health and wellness took place at the resort location.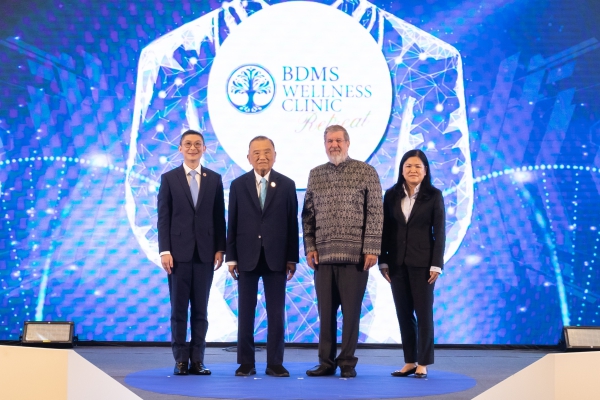 Today wellness tourism is undoubtedly gained more and more interests from health concerned tourists. These people see physical and mental wellbeing as a priority in their lives and while travelling or on holiday they want to relax, but also to be able to restore their health.
Dr. Tanupol Virunhagarun, M.D., Chief Executive Officer of BDMS Wellness Clinic said "Wellness tourism had gained more interest from tourists around the world. It is considered to be the future of Thailand's medical tourism industry, an area of which is growing rapidly and the trend is set to continue once borders open Post COVID-19. BDMS Wellness Clinic, as specialist in preventive and personalized medicine, sees the growth potential of this sector and decided to join forces with Minor Hotels – one of the nation's largest hotel operators with over 535 hotels and over 75,000 guestrooms under its umbrella - in responding to tourists' need for a restorative trip."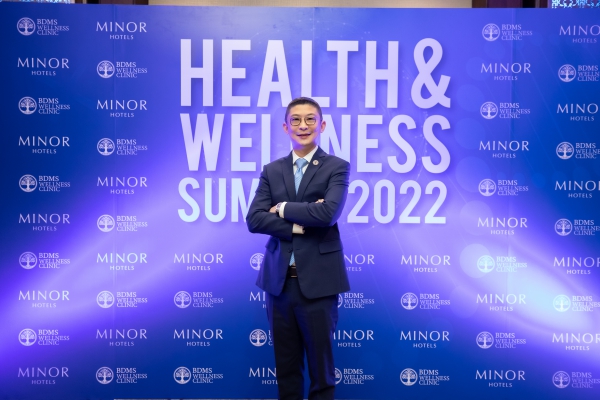 "With this collaboration, the new Wellness Destination has been launched under the name "BDMS Wellness Clinic Retreat at Anantara Riverside Bangkok Resort". Located on the bank of the Chao Phraya amidst lush tropical garden and riverside setting, this newly opened Preventive Health Care Center is providing ways in which guests can feel connected to nature while receiving counseling and medical services from a professional team." Dr. Tanupol concludes.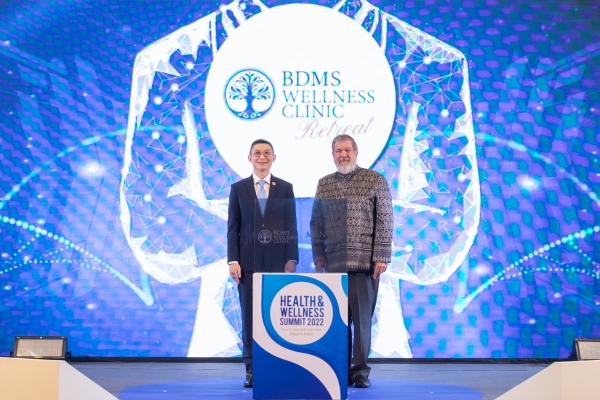 "The COVID-19 pandemic raised an alarm over health-conscious people as well as tourists. More consumers became more interested in preventive and incorporate wellness into their lifestyles. Hence wellness tourists spent more time and more money per trip than the typical domestic tourist." says William E. Heinecke, Chairman of Minor International Plc. "According to the recent research "The Global Wellness Economy: Looking beyond COVID-19" conducted by the Global Wellness Institute (GWI), the growth of global wellness tourism is expected to reach the value of US$7 trillion by 2025. Thailand also becomes the third country to be spotlighted on GWI's "Geography of Wellness" microsite. As Minor Hotels recognizes the increasing importance of Wellness Tourism or health tourism, we believe this is the right time for the collaboration between BDMS Wellness Clinic and Minor Hotels in launching BDMS Wellness Clinic Retreat at Anantara Riverside Bangkok Resort. With BDMS's expertise in healthcare, Preventive Medicine and Personalized Medicine combine with the prime location and relaxing atmosphere of our hotel, we have confidence that our health-conscious guests will be touched by true wellness and these challenges will surely provide many opportunities to all parties involved." William E. Heinecke concluded.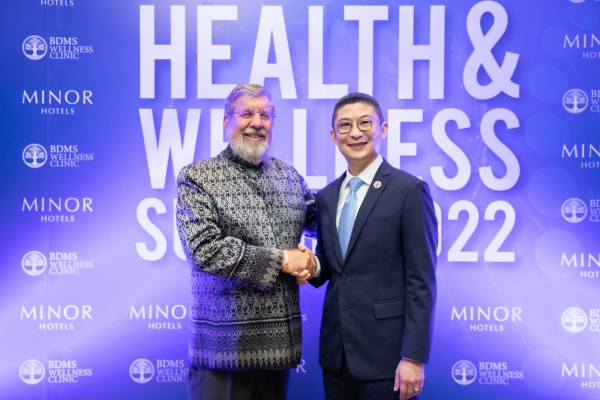 To mark this special occasion, Health and Wellness Summit was held on October 10, 2022 following the opening remarks delivered by Dr. Poramaporn Prasarttong-osoth, President of Bangkok Dusit Medical Services (BDMS), joining the summit as speakers were Dr. Tanupol Virunhagarun, M.D., William E. Heinecke, Prof. Keith L Black, M.D. and Prof. Jirí Dvorák, M.D. The event took place at Chao Phraya Ballroom, Anantara Riverside Bangkok Resort.
The topics include:
The Keys to long lasting brain health by Prof. Keith L Black, M.D. a world renowned neurosurgeon with a prolific body of work. With his expertise on brain diseases and tumors, he emphasized the important duty of the brain and how to optimize brain health and wellness as you age to prevent degenerating diseases such as Alzheimer's, Dementia and Parkinson's disease. The number of people getting Alzheimer's disease is increasing as we live longer. It is the cause of medical conditions we are not getting treated for– like high blood pressure and diabetes. So, eating less processed sugar, managing and maintaining proper weight, and regular exercise - things you hear about that can decrease your risk of getting high blood pressure and diabetes, can also decrease your risk of getting Alzheimer's disease. Dr. Black said "The good news is that a lifestyle change can interrupt the onslaught of Alzheimer's and save countless lives. Alzheimer's disease may be incurable, but simply adopting a healthy, balanced lifestyle can help keep your brain healthy far longer.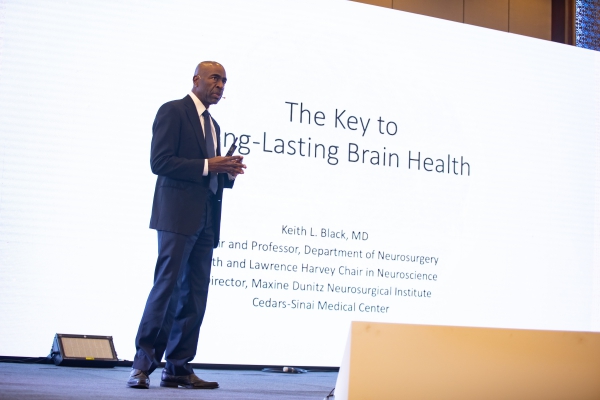 Silver Age: Exercise Pills and Balanced Nutrition by Prof. Jirí Dvorák, M.D. whose main specialism on Neurology and Spinal injuries and conditions, Sports Medicine and Lifestyle Medicine. He promotes a healthy lifestyle through to research on the impact of exercise; an advocate on the prescribed 30-minute 'exercise pill' and importance of nutrition.
Physical inactivity is one of the most significant problems of the twenty-first century. Today, more than a hundred thousand published papers testify to the connection between exercise and health. After the age of forty, all of us, even the athletic, lose about eight per cent of our muscle mass each decade, with a further fifteen-per-cent decline between the ages of seventy and eighty.
The resulting frailty can be lethal. Regular exercise can improve muscle mass. Studies also revealed that a lack of exercise was tied to the early onset of more than forty chronic diseases or conditions, from constipation and colon cancer to depression and diabetes.
Working out regularly really does change the brain biology. The exercise pill also keeps your brain healthy, improves memory function, cognitive performance and academic achievement as well as protects it against depression and anxiety.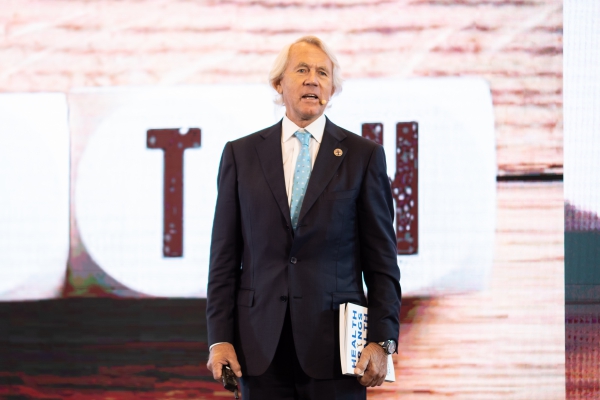 Healthy Eating & Wellness Trend by Dr. Tanupol Virunhagarun, M.D. a regenerative doctor. He focused his topics on lifestyle and anti-aging medicine; 5 pillars of health and wellness; what to eat and not to eat, clean foods and clean eating, important nutrients and amount of nutrients that the body needs. COVID-19 rapidly reshapes consumer behaviors. The diets play a crucial role in reducing the risks of chronic diseases and lowering the complications risks of COVID-19. Consumers now pay close attention to their health and the environment. They realize that Daily Exercise, Good Sleep, Balanced Nutrition and a Peaceful Mindset are the keys to a healthy and long life. Healthy foods especially plant-based foods will be in high demand. The future of plant-based foods and wellness tourism will definitely look bright. There are several reasons why Thailand is best for wellness tourism. With its abundant food, beautiful tourist spots, very well trained doctors, the most cutting-edge medical technology as well as excellent amenities in hospitality services, Thailand is truly shines
Dr. Tanupol believes that once the spread of the COVID-19 virus is under control and borders cautiously reopen, all areas of health and wellness tourism will soon be welcoming foreign wellness tourists and Thailand's resilience will once again be displayed to the world.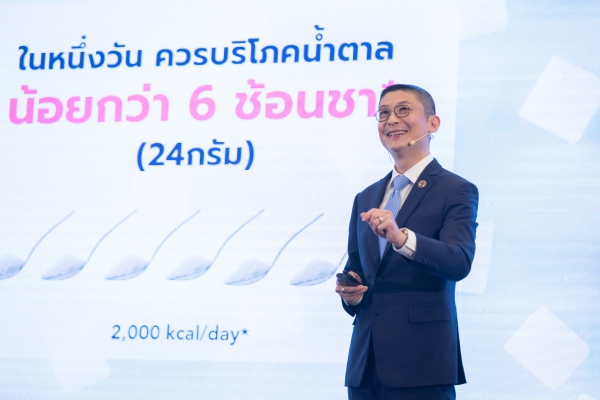 About the Speakers
Prof. Keith L Black, M.D.
BDMS Wellness Clinic Executive Advisor l Brain Wellness Clinic
Dr. Keith L. Black is a renowned neurosurgeon and scientist in Los Angeles. He received his medical degree from University of Michigan Medical School and has been in practice for more than 20 years.
Keith L. Black is the chairman of the Department of Neurosurgery and the director of the Maxine Dunitz Neurosurgical Institute at Cedars-Sinai Medical Center. Dr. Black also holds the Ruth and Lawrence Harvey Chair in Neurosciences and is a professor of neurosurgery at Cedars-Sinai Medical Center. At age seventeen, he published his first scientific paper, which earned the Westinghouse Science Award. He earned both his undergraduate and medical degrees in six years. He completed his internship in general surgery and residency in neurological surgery at the University of Michigan Medical Center in Ann Arbor.
Dr. Black has pioneered research on designing ways to open the blood-brain barrier, enabling chemotherapeutic drugs to be delivered directly into the tumor. His other ground-breaking research includes developing a vaccine to enhance the body's immune response to brain tumors, using gene arrays to develop molecular profiles of tumors, employing optical technology for brain mapping. He has also made use of precisely targeted microwave radiation to kill cancer cells, a computer-driven technology that may someday be performed remotely, without requiring the physical presence of the surgeon in the operating room. His work had drawn national attention. He was profiled on the public television series The New Explorers, the magazine Esquire included him on its list of "The 21 Most Important People of the 21st Century," and TIME magazine featured him on the cover of a 1997 special edition, "Heroes of Medicine." His autobiography, Brain Surgeon, was published in 2009.
Prof. Jirí Dvorák, M.D.
BDMS Wellness Clinic Executive Advisor | Musculoskeletal and Rehabilitation Clinic
Senior Consultant in Neurology and Research at the Spine Center, Schulthess Clinic, Zurich, where he previously served as Chairman for 35 years. A Professor of Neurology at the University of Zurich, former Chief Medical Officer at FIFA, and a Consultant at BDMS Wellness Clinic, Bangkok. Prof. Dr. Jirí Dvorák is a Senior Advisor of the British Journal of Sports Medicine, a previous Deputy Editor of SPINE, and is widely published with 462 original articles. His immense contributions to spine research on clinical biomechanics and to sports medicine on injury prevention have resulted in numerous awards. His current research activities are focused on prevention of communicable and non-communicable diseases, and he is also developing a national-level Lifestyle Medicine Diploma for Thailand. An Honorary Member of EUROSPINE, which he co-founded in 1990, also at the International Society of Arthroscopy, Knee Surgery and Orthopedic Sports Medicine, and the Czech Medical Academy.
Dr. Tanupol Virunhagarun, M.D.
Chief Executive Officer - BDMS Wellness Clinic
Dr. Tanupol is the CEO of BDMS Wellness Clinic, Bangkok, the preventive medical clinic of Bangkok Dusit Medical Services, one of the global top five healthcare providers. He is President of the Bangkok Association of Regenerative Health and The Study of Obesity, and an active advocate of lifestyle medicine. Widely known as Dr. Amp, he is a popular social media influencer with his educational Dr. Amp Team channel amassing 45 million views and 750,000 followers. With his goal to spread knowledge about different health topics to the Thai public, Dr. Tanupol has also authored numerous successful Thai-language books including: Eat Well, Live Long; 100 Years of Great Health; Secrets of Longevity and Anti-Aging; and Power of Sleep, Power of Health. He is becoming more active within the education sector and is a Member of the Editorial Board for the peer-reviewed Bangkok Medical Journal.
William E. Heinecke
Chairman of Minor International Plc.
One of the best known expatriates in Southeast Asia, Bill Heinecke is the driving force behind the leading global brands under the Minor Group umbrella. His visionary spirit, unwavering commitment and hands-on management style are the cornerstones of his unparalleled successes, which are deeply rooted in Thailand. Bill created his very first company here at the young age of 17. Today, Minor International (MINT) owns and operates a diversity companies, focused on three primary business sectors: restaurants, hotels and lifestyle retail brands. MINT operates over 2,200 restaurants, over 400 retail trading outlets, and over 535 hotels across 55 countries.